Sumter Place Remodel - Coming 2020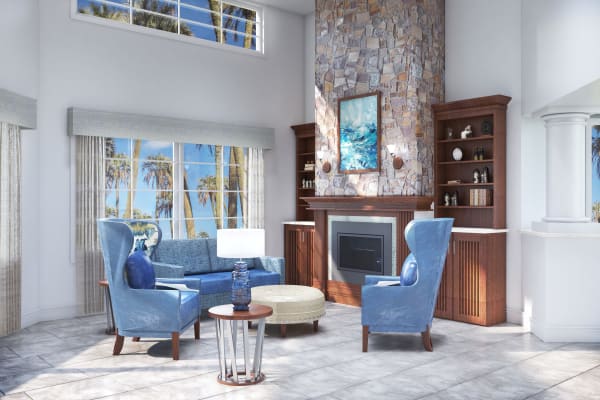 Sumter Place Renovations - Coming Spring 2020
The Sumter Place team is excited to share our plans and drawings of the newly remodeled Sumter Place. Our designer remodel will result in a completely refreshed look here at our Assisted Living and SHINE℠ Memory Care community with inviting spaces for an even better way to dine, socialize and enjoy life. Just one more way Sumter Place - and Sumter Senior Living - is the place you or your loved one can call home - now and for years to come.
GRANDE LOBBY
We are upgrading the Grande Lobby at Sumter Place with modern design details. The new space will feature all new furniture, lighting, flooring, decorations and a multi-layered accent wall for a stunning entrance to welcome you or your loved one and guests to our beautiful community.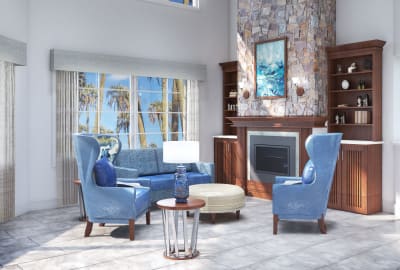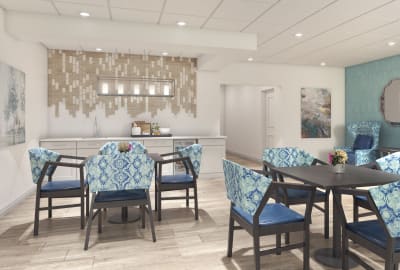 SOCIAL LOUNGE
Perfect for everything from get-togethers and playing games with friends to relaxing or finding the perfect spot to enjoy a good book, this gorgeous space is designed with comfort and socialization in mind with all-new furniture, lighting, decorations and flooring.
SENSATIONS DINING ROOM
With a fresh brush stroke, we are redesigning the culinary experience. Residents will enjoy the same Sensations dining experience that is synonymous with Sumter Place, but with new furniture,flooring, decorations, lighting and window treatments to create a fresh, inspiring environment for residents to socialize and dine.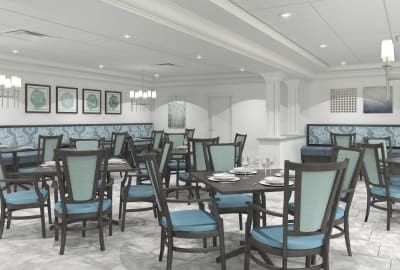 BAILEY'S BISTRO
Sit back and relax with a cup of coffee in our completely-remodeled bistro. Brand-new color scheme, furniture, flooring, decorations, window treatments and lighting have all been hand-selected to create a cozy and casual space for residents to gather and savor a casual bite.
FITCAMP℠
More than just a gym, our brand-new FitCamp℠ features state-of-the-art strength training equipment designed specifically with the needs of seniors in mind. Ample lighting and vivid colors evoke an inspirational energy that is ideal for achieving your goals and living your best life.